Eat Pray Love
13 August 2010 (USA)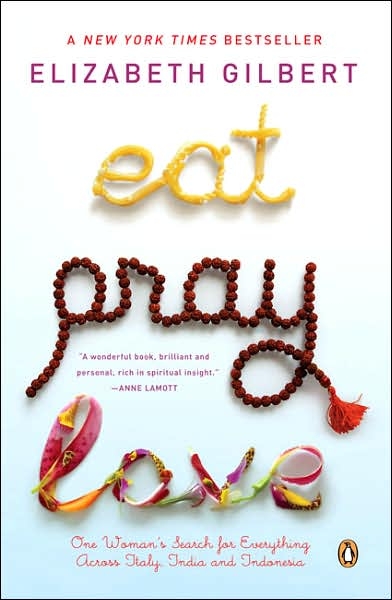 FYI : 1/3 SET FILM BERADA DI BALI INDONESIA BRAD !!!
Director:
Ryan Murphy
Writers (WGA):
Ryan Murphy
Jennifer Salt
Release Date:
13 August 2010 (USA)
Genre:
Drama
Tagline:
Let Yourself Go This August
Plot:
While trying to get pregnant, a happily married woman realizes her life needs to go in a different direction, and after a painful divorce, she takes off on a round-the-world journey. Based on the memoir by Elizabeth Gilbert
Cast :

Julia Roberts ... Liz Gilbert
I. Gusti Ayu Puspawati ... Nyomo
Hadi Subiyanto ... Ketut Liyer

Billy Crudup ... Stephen

Viola Davis ... Delia Shiraz
A. Jay Radcliff ... Andre

Mike O'Malley ... Andy Shiraz
Ashlie Atkinson ... Bookstore Girl

James Franco ... David Piccolo
Lisa Roberts Gillan ... Woman in Play

Ryan O'Nan ... Play Walk-Out

Gita Reddy ... The Guru
Dwayne Clark ... NYU Student Boyfriend

Jen Kwok ... NYU Student Girlfriend (as Jennifer Kwok)
Mary Testa ... Laundromat Gal
Elijah Tucker ... Chant Leader
Karen Trindle ... Chant Leader
Zachary Dunham ... Chant Leader (as Zach Dunham)
Clair Oaks ... Chant Leader
Ned Leavitt ... Chant Leader
Lynn Margileth ... Chant Leader

Welker White ... Andrea Sherwood
José Ramón Rosario ... Storage Building Guy (as Jose Ramon Rosario)
Lucia Guzzardi ... Landlady
Roberto Di Palma ... Large Man at Trattoria
Tuva Novotny ... Sofi
Luca Argentero ... Giovanni
Silvano Rossi ... Paolo the Barber
Giuseppe Gandini ... Luca Spaghetti
Ludovica Virga ... Arguing Fruit Customer
Marco Lastrucci ... Arguing Fruit Customer
Elena Arvigo ... Maria

Andrea Di Stefano ... Giulio
Remo Remotti ... Older Soccer Fan
Vanessa Marini ... Clothing Store Salesgirl
Lidia Biondi ... Ruffina (as Lydia Biondi)
Emma Brunetti ... Paola
Chiara Brunetti ... Claudia
Ajay Bhandari ... Liz's Bag Holder
Michael Cumpsty ... Swami Shivananda

Richard Jenkins ... Richard from Texas
Sophie Thompson ... Corella
Rushita Singh ... Tulsi
Ritvik Tyagi ... Madhu
Sd Pandey ... Man in Temple
Anand Yeshwant Bapat ... Indian Shop Salesman
Micky Dhamejani ... Rijul (as Micky Dhameejani)
Peter Davis ... Disc Jockey
Shona Benson ... Sharon in Seva Office
Dean Allan Tolhurst ... Balinese Realtor

Javier Bardem ... Felipe
Christine Hakim ... Wayan Nuriasih
Anakia Lapae ... Tutti

Arlene Tur ... Armenia
David Lyons ... Ian

Tj Power ... Leon
Richard V. Vogt ... Man in Restaurant
Experience Board Member





Posts

: 177


Age

: 28


Location

: "You've got to take the good with the bad, smile with the sad, love what you've got, and remember what you had. Always forgive, but never forget. Learn from mistakes, but never regret."



ini tuh kan pembuatannya yang sampe ke bali indonesia kan ?
kalo ga salah.
heheh....
Senior Member





Posts

: 78


Age

: 28


Location

: Son of My Mom





Similar topics
---
Permissions in this forum:
You
cannot
reply to topics in this forum